Moto Morini took center stage at EICMA 2023, introducing a range of exciting new models that are set to redefine the motorcycle landscape. The spotlight was on the Corsaro 750, Corsaro Sport, Milano, and X-Cape 1200, each bringing a unique flavor to the acclaimed motor show.
Corsaro 750 and Corsaro Sport: Dynamic Twins with Distinct Personalities
At the heart of the Corsaro twins lies a potent 750cc liquid-cooled V-Twin engine, promising a thrilling riding experience. While the exact power figures are yet to be revealed, what sets these models apart is their true V-shaped cylinder arrangement, a departure from the current industry norm. The Corsaro, a streetfighter with a bold and sharp design, stands as a symbol of power and agility. Meanwhile, the Corsaro Sport, a supersport offering, flaunts a full fairing on both sides, exuding a sleek and aerodynamic profile. Both models feature high-performance components, including Brembo brakes, hydraulic clutches, and Pirelli Diablo Rosso 4 tires.
Milano and X-Cape 1200: Larger Siblings with Distinctive Characteristics
Stepping up in size, the Milano and X-Cape 1200 house a robust 1200cc V-twin engine, promising a punchy performance that is yet to be quantified. The X-Cape 1200 shares the design language with its smaller counterpart, featuring a striking single-piece LED headlight with dual projectors, a transparent visor, and sweeping side panels that seamlessly integrate with the rider seat. On the other hand, the Milano adopts a neo-retro persona, boasting a round LED headlight, a wide fuel tank, and a single-piece seat for a timeless aesthetic.
Moto Morini, currently retailing the X-Cape (750) and the Seiemmezzo in India, has piqued the interest of enthusiasts with this diverse lineup. The introduction of the Corsaro 750 and Corsaro Sport adds exciting prospects to the brand's portfolio, potentially expanding its offerings in the Indian market. With just two bikes currently available, the newly unveiled 750s could inject fresh energy into Moto Morini's presence in India.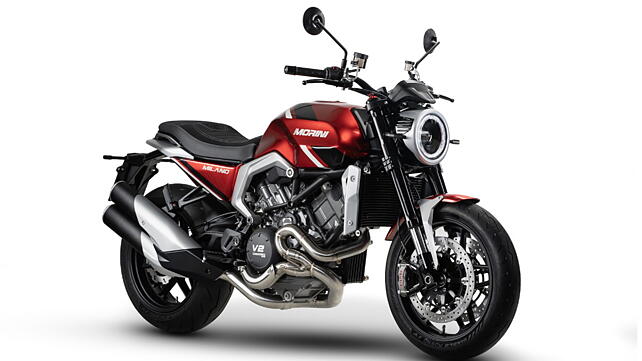 Also Read – Aprilia RS 457 prices revealed abroad, not yet for India.