BMW has deployed its M division cars and bikes as safety vehicles at the upcoming Bharat GP. For the race, BMW M has earmarked a range of cars and one bike. These include the BMW M2, BMW M3 Touring, BMW M5 CS and the BMW M 1000 RR. All of these will be used for the operations in practice sessions, qualifying rounds and races as well. Further, they will also be used for the essential technical test laps of the circuit as well.
Furthermore, BMW Excellence club members are in for a treat at the Bharat GP. Members will get exclusive access to hospitality, laps in BMW M safety vehicles and more. A curated program also includes hospitality services, prime vantage points for race-watching, guided paddock tours, insights from BMW M MotoGP experts, and encounters with pit lane mechanics. The highlight includes the opportunity for club members to embark on a racetrack lap as passengers in one of the BMW M Safety Cars.
BMW M2 MotoGP Safety Car
The M2 MotoGP safety car comes with a 460 HP engine. The car has been specially designed to tackle the requirements of the MotoGP race tracks. The car comes with a roll bar, racing harness, sports seats, fire extinguisher, roof light bar and more.
The car is finished in the BMW M Safety car livery.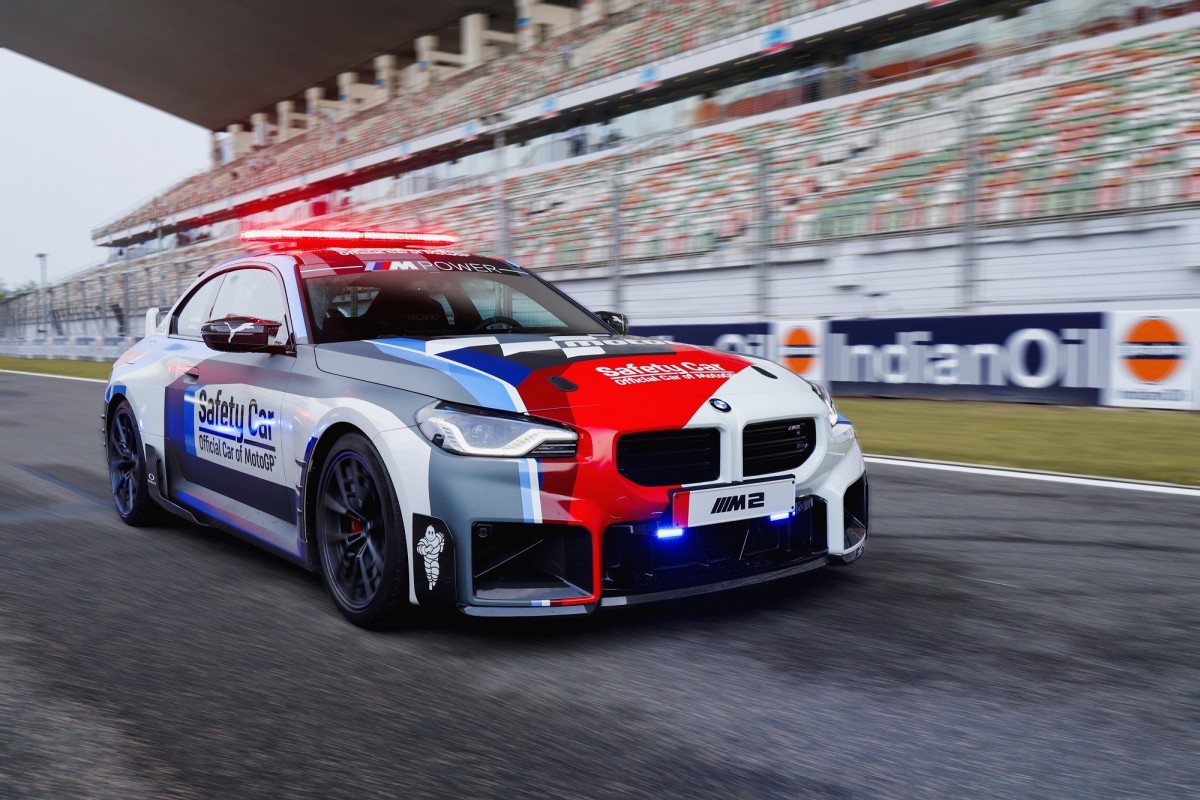 BMW M3 Competition Touring M xDrive Safety Car
BMW has also deployed the M3 Touring for the MotoGP races. This is the first ever Touring to be deployed at such event which the advanced technological and performance capabilities. The BMW M3 Touring MotoGP Safety Car also pays a tribute to 50 years of BMW M and to the decades of partnership with MotoGP. The safety car sports a special 50 Years of BMW M Livery, and all MotoGP safety cars from 1999 to the present day are listed on the car.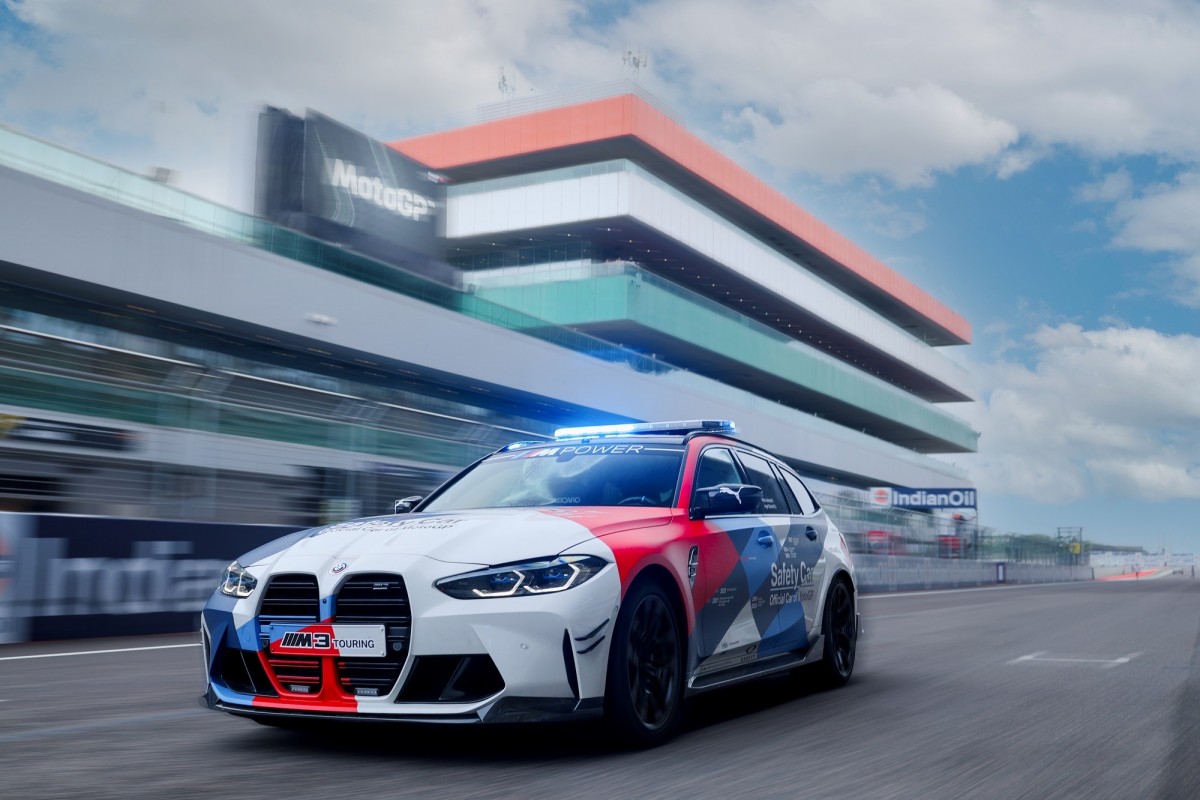 BMW M5 CS MotoGP
This special M5 comes in a unique paint shade. Apart from the looks, the car also gets a powerful engine that is capable of a 0-100 km/h sprint in just 2 seconds. Not to mention the top speed of 305 km/h as well. The M5 CS MotoGP also gets an all-wheel drive system that can also be used in rear-wheel drive mode as well.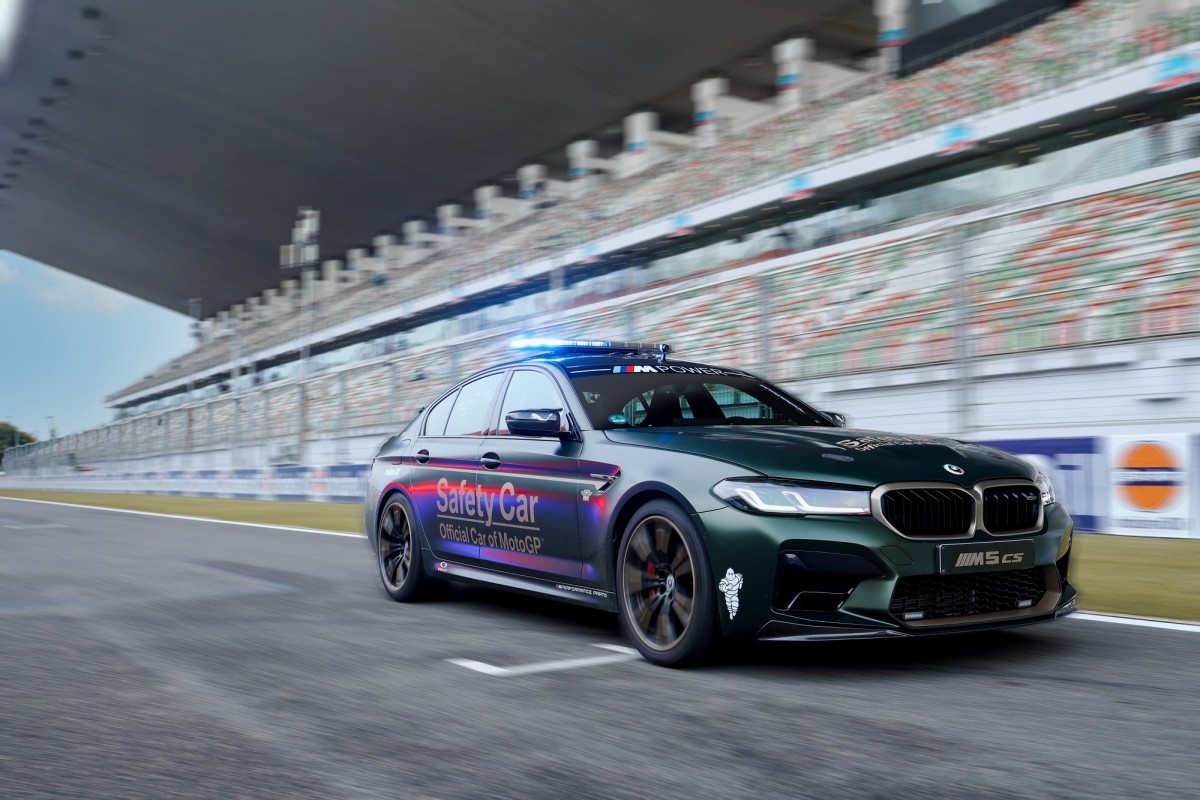 BMW M 1000 RR MotoGP Safety bike
Lastly, the M 1000 RR Safety Bike maintains a good presence on the track during the race weekend. It gets a top speed of 314 km/h and the bike is mostly used for the technical track tests during the course of the entire MotoGP race weekend.
Also Read – 2023 MotoGP race dates in India confirmed.