Tesla has unveiled the updated all-electric Model 3 sedan. The American carmaker claims more than half of the car's components have been revised based on customer feedback.
Tesla Model 3 : Updates to the Design
The main change on the outside is the new updated front end. Tesla claims this has been done to reduce the drag coefficient of the car. This will indirectly lead to a larger range as well as reduce the wind noise as an added advantage.
The headlight is reworked and gets a slim design along with an updated lower bumper. Rest of the car remains more or less identical to the previous version.
At the back, there are new C-shaped rear lights. The car also gets double-glazed windows for improved noise reduction.
Tesla is also offering aero-optimised wheel design with a 5 percent smoother surface and improved tyre sidewalls on both the 18 and 19-inch options.
What's new in the Tesla Model 3 interiors?
Tesla now offers structurally reinforced front and rear doors. These will offer impact resistance to higher loads. This has been done to meet the updated crash test regulations. This has also led to better sound with the door closing action. The Model 3 now comes with a low drag coefficient of 0.219 compared to the earlier 0.23.
The new minimalist cabin now comes with an updated 15.4-inch touchscreen system. It now has a smaller bezel and the steering column no longer comes with stalks. Instead these settings can be adjusted by the buttons on the new steering wheel. The drive selector has now moved to the touch screen.
Creature comforts include two wireless phone chargers and three new charging ports. The rear occupants will benefit from an 8-inch screen for the climate control and infotainment purposes.
Powertrain of the updated Tesla Model 3
Tesla claims the new Model 3 now offers 5-8 percent improvement in the range. The rear wheel drive model comes with a 554 km range while the Long Range gets a 677 km range. Regular models support 170 kW fast charging while Long Range ones can go upto 250 kW.
Tesla has not revealed details of the all-wheel drive variants, but the single motor ones will do 0-100 km/h in 6.1 seconds for the standard model with figure dropping down to 4.1 seconds for the long range model. The top speed is locked at 200 km/h.
Timeline of the new Tesla Model 3
This new model is expected to go on sale by next year. The updated Model Y will also follow in the footsteps of the Model 3.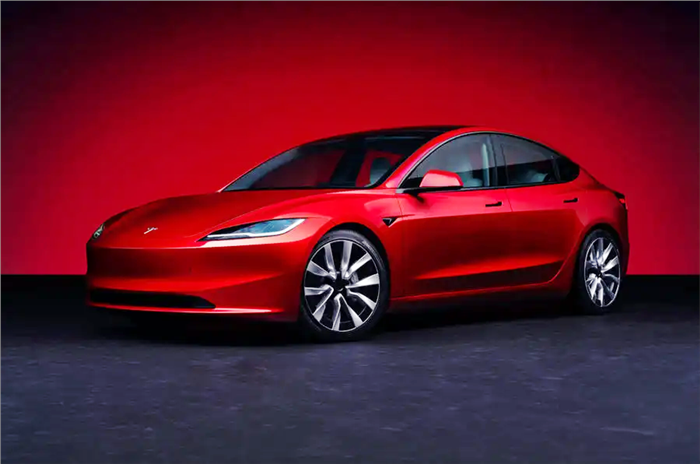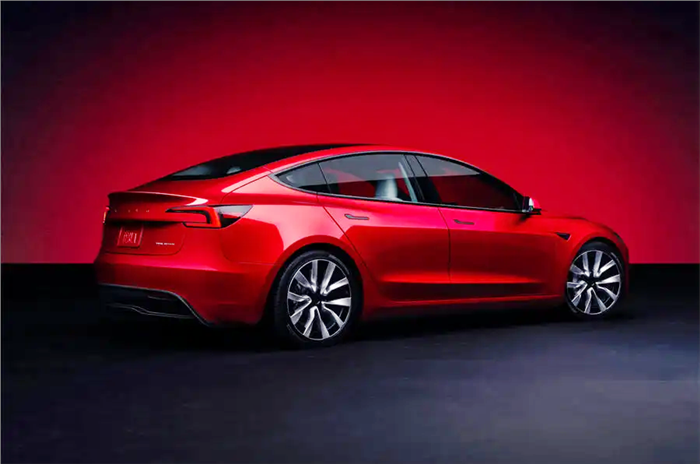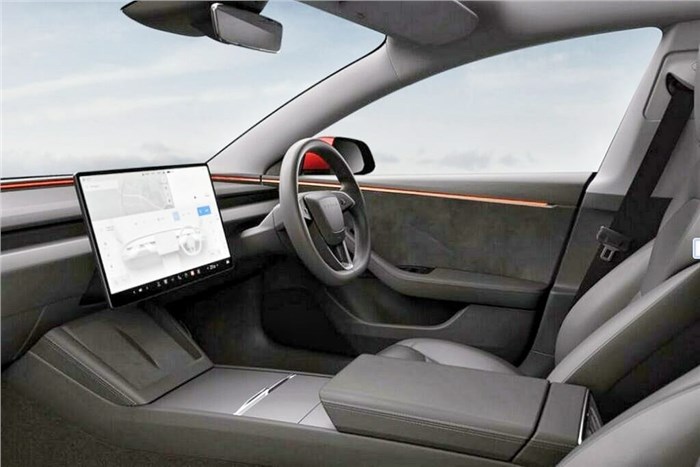 Also Read – Tesla planning to set factory in India for affordable pricing.